The Nigeria Conservation Foundation (NCF) and South Sahara Social Development Organisation (SSDO) earlier today carried out a One-Day sensitisation and advocacy campaign in Enugu State of Nigeria for the preservation and conservation of Vultures.
The walk, which is meant to commemorate the International Vulture Day 2022 titled: "A Mile for Egyptian Vulture", witnessed a large turn-out of conservationists and who went through major roads in Enugu metropolis for several hours.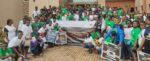 Speaking after the walk, Dr Joseph Onoja, Director-General of NCF, said the awareness was about conserving vultures, especially the red headed and Egyptian vultures, which had been seriously threatened in the country.
Onoja, represented by Mr Oladapo Soneye, Head Communications of NCF, said that vultures had become endangered species within the wild life eco-system in Nigeria.
He said the foundation had since 2017 commenced a project tagged "Save Vulture Campaign", targeted at sensitising the public about the conservation of vulture species and the adverse effect of its extinction on human health and the economy.
"If we don't take urgent actions in preserving what is left, while halting further reduction of their populations, we may drive them into extinction through human activities, " he said.
He recalled that in 2019, about 150 vultures were found dead at Eke-Ihe Market in Awgu Local Government Area of Enugu state.
"This incident raised the concern of NCF and other major CSOs and authorities in the state; And has led to the deployment of strategies, including community engagement, capacity building for law enforcement agents, awareness campaign and field surveys in gaining utmost support for the conservation of vultures" he said.
"Today, we want to change the narrative of killing vultures, destroying their inhabitant, seeing vultures as an animal with bad omen.
"All these practices and believe are wrong and leads to the depletion of this natural helpful animal.
"Vulture remains helpful and essential in the eco-system to ensure carcasses of animals are eaten up and the activities of bacteria and other pathogens are effectively checked.
"With their helpful work, there is reduced health burden caused by the activities of pathogens as well as reduced economic expenses for individuals, families and communities," he said.
Speaking, the Head of Programmes in SSDO, Mr Udochukwu Egwim, said the economic and health benefits of allowing the vulture do their naturally assigned role of environmental cleaning agents cannot be over-emphasised.
Egwim noted that vultures ensure the "essential balance in the eco-system" and do much by their activities to protect life both of humans and animals in a given environment.
"We are on this to ensure that as change agent, which SSDO stands for, we ensure that our people do the right thing and ensure that international best practices meant to benefit every human on earth is done," he said.
Chief Levi Idoko, Coordinator of Wash and Sanitation and Health (WASH) in Igboeze North Local Government Area, said the awareness was laudable to help preserve wild life in general in Enugu State.
Idoko, who also joined in the walk, said: "We must rise to positively check the habit of hunting and eating bush meat by our people and thereby endangering lives of wild animals and distorting their inhabitants".
Participants in the walk included students, youth groups, non-governmental organizations and media practitioners.