The Managing Director of the Lagos State Waste Management Authority (LAWMA), Mr Ibrahim Odumboni has reiterated Lawma's focus on proactively achieving and sustaining the goal for a cleaner Lagos. He stated this during an exclusive chat with Environment Africa Magazine Team, led by Nwosu Samuel.
Excerpts
Give us a rundown of Lawma's interventions within the last two years?
At the moment Lawma is at the brink of drawing up our future plans for waste management, over the next 10 years with key focus on green economy, circular economy and sustainability. These are the kinds of things we are trying to focus on.
And in drawing up our masterplan, we are also going to ensure that while sustainability is being changed, there's also an opportunity to react to human needs or interference.
You can see that over the last two years, we have changed our approach to waste management to be more proactive than reactive. To take it a step further by looking a little bit deeper into the future. If you compare Lagos to what is obtainable in the United States, couple of years before we were far off, but now we are closing the gap.
For instance, we are one of the first across Africa to use our own local solution to tackle our modern problems. So we design our trucks ourselves, assemble with our components ourselves and even make our bins ourselves. We created our first solid waste school called Lawma Academy. We launched our recycling uberlike app called 'Pakam' ourselves. We also launched 'Smart Bin' which is not even in some developed countries yet.
"Waste management might seem to look like a job for certain people but now you can see everybody joining"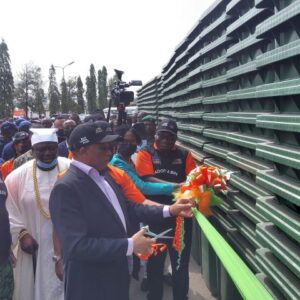 With Olusosun landfill nearing its end of life; what is on ground to accommodate the waste generated in Lagos?
Olusosun is a monumental site that has carried Lagos for a long time. And I can tell you that when it closes, it would be re-opened within a very short time. Within that period of its closure it would be have been changed and transformed from a dumpsite to a waste to energy facility. And that's what we are working on.
There's nothing wrong in transforming the use of that facility. It can be transformed and become a resource for us. You see all the waste there? We want a suitable waste digestive system that can put old and new waste to use at that location. The facility can be transformed in its entirety to a state of the art facility that can generate energy. But what's the source of the energy? It's the waste. So whatever waste brought there will be converted into energy.
With so many other uses for waste; can the waste be sustainable for the waste-to-energy facility?
The feedstock of waste in Lagos is something that is continuous. There are over six ways you can enter Lagos. So we have people coming in from all parts of the country and around the world to strive in Lagos. And there's a projection that states the population of Lagos would be almost double by 2030, reaching up to 50million persons. Now, at present, Lagos generates 13,000mt daily. Imagine how many more waste would be generated when the population increases!
So, in terms of feedstock, there will always be waste; inasmuch as we always wake, sleep and perform normal activities, there will always be waste to feed the plants. What we have in terms of waste is more than six African countries put together. In a few years, it would be up to 12 African countries put together.
With regards to the Lawma Academy; what's the end game?
It's an opportunity to learn about waste from age three to whatever age you are. Public primary schools in Lagos are using about 30minutes every week to learn about waste management and I can see that develop into secondary schools as well. The Academy is also open for remote learning, distance learning, online learning for everybody from every walk of life. We have students that come from environmental clubs of universities to come intern at the academy. We usually have upto 15 students on a monthly basis. For us, we've had a lot of progress that has resulted from those interns.
Strategic outlook for the future?
Like I mentioned earlier, we have a 10 year strategic plan and we are upskilling our management to be able to provide leadership for sustainability of that strategic direction. We are also investing a lot in infrastructure to make sure we are able to incorporate all the research gains and benefits accruable from all these training and strategies.