Civil Society Organizations and the Media were instrumental in ensuring that disinformation and rumours that brought about vaccine hesitancy were dispelled to a very large extent in Lagos State.
This assertion was made by Ms Titilope Akosa during her presentation on the second day of the ongoing 7th African Conference on OneHealth and Bio-security organized by the Global Emerging Pathogens Treatment Consortium (GET) on Thursday, 28th October in Lagos.
Ms Akosa, who is the coordinator of the Covid19 CSO Coalition in Lagos State and the Executive Director of Center for 21st century issues, a non-governmental organization focused on women empowerment and sustainable development, spoke on the theme "The Role of Civil Society Organizations (CSO's) in the fight against Covid19 in Lagos".
Interestingly, in a graphical presentation, she highlighted the fact that the media scored 64percent closely followed by Civil Society Organizations with a 49.4 percent score as the most believable groups who communicated and interacted with communities and residents on issues pertaining to Covid19 prevention and treatment.
According to Ms Akosa, community awareness was a major tool deployed to reach even the most remote areas of the state for those neighbourhoods not aware of the protocols associated with the Covid19 virus; as it was employed to dispel the wrong information on vaccinations, types and effects. She also disclosed that the the CSO coalition were interfacing between the government and the people; providing the government with feedback and real-time information on citizen engagement and needs while providing lagosians with accurate information on the disease and government's efforts.
Akosa, however, recommended that CSOs' and Media should be more appreciated and taken into account by government and the private sector in developmental issues as this would provide better room for civic engagement and community awareness.
This call for partnership was a focal point of Dr Alexander Ochem's presentation when he lamented that there was a huge gap between the private sector and government in terms of building local capacity and deploying local expertise for Africa's development.
Stating that Africa had no business begging for vaccines and aid from the rest of the world, Dr Ochem, a consultant on African Vaccine Manufacturing Initiative (AVMI) expressed displeasure at the poor investments in research which he says is stifling development and, also responsible for Africa's backwardness.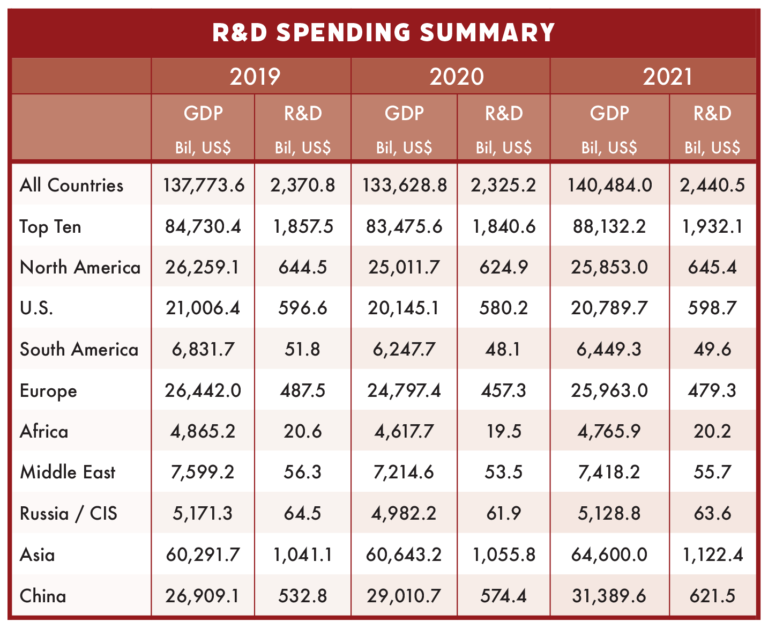 Global Spend on R & D. Table shows that Africa has consistently had the lowest spend on R&D for three years running. Image credit: www.rdworldonline.com
In a satirical aside, Dr Ochem latched on the Africa's 2063 agenda which was to present the Africa we want towards 'repositioning Africa to becoming a dominant player in the global area'. For Dr Ochem and speakers that came after; how can this be possible when even the budget of the African Union was heavily financed to the tune of almost 60percent by global development partners and countries? And for the university don, that brings into perspective the dependency on foreign funding for research and development for Africa's problems.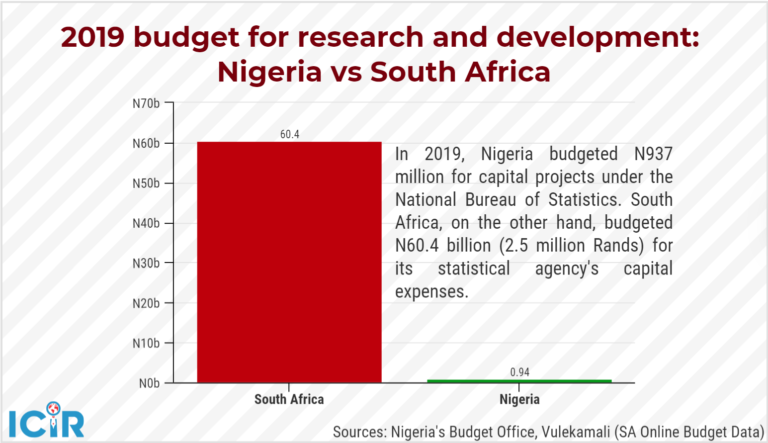 Presenting a 12 point development agenda, Ochem insisted that until Africa starts taking responsibility for its development according to its own internal terms and developmental needs, it would continue to be a paper giant and remain backward in the global development affairs.
A policy strategist, Dr Nicholas Ozor of the African Technology Policy Studies Network, opined that research and development would ever remain inferior to politics until the political class can and be made to be appreciative of the importance of research and development towards Africa's sustainable growth. Dr Ozor who spoke on 'Developing effective policies for tackling adverse effects of climate change on health sector in Africa' called for regulation of fossil fuel use, implementation of environmental compliance laws, promotion of climate smart agriculture and investment in research and development.
Ozor, who is a global expert on developmental policy, was emphatic that there should be a determined drive to ensure that policies put together by government's should reflect the actual realities of issues and take into cognizance the various dynamics of Africa's developmental needs to be effective