"Nigeria has greater challenges when it comes to water development and management. The current water resources development and supply status is unacceptably low and needs a major transformation. With the rapid growth in population, urbanization, industrialization and competition for economic development, water resource has become vulnerable to depletion and degradation"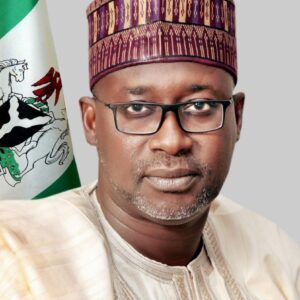 Water remains an indelible part of human existence and managing it for public good is a huge responsibility.  Having been appointed just before the Coronavirus pandemic hit, Engr. Magashi Umar Bashir, Executive Director of Nigeria's Integrated Water Resources Management Commission, NIWRMC was thrown into the deep end.
On acknowledging his first year in office, Engr Magashi, in this exclusive chat with Environment Africa Magazine team, recounts the pressing issues that have been challenges to water resources management in Nigeria.
Excerpts:
What has been your experience since assuming office?
When I came in, it was discovered we were still using an outdated regulation, the 2016 water use license. So we wrote to the minister and had the 2020 water use license approved. We looked at the ongoing operations and processes to restructure them. There were things that we felt were going well and we continued those.
One of them is the water source project to protect all sources of water in the country against pollution or external aggression. This is by individuals within the country or any other person from outside.
Contrarily, we also found that we had to produce both legal and policy frameworks to support the commissions operations and we have been able to produce these. Even during the covid-19 lockdown period, we wrote to all stakeholders to make their submissions, which they did, and we filed this together. We are looking at next year, for a larger stakeholder gathering, to present these findings and come out with concrete undertakings for the nation.
How strong is the commission on Monitoring and Evaluation?
We are having a lot of problems with companies refusing to pay Government what is due. I believe there's no country anywhere in this world that you establish a large water business for a brewery or construction company and you take water from the surface or underground aquifer without any license or permission to do so without giving the Government a dime.
So you can't come into Nigeria, and just set up without doing what is right. We have a lot of companies producing bottled water for instance. They don't care about paying for permits, all the money they make they take outside the country.
Of course, we can see that revenue generation is reducing; even in the oil sector, but the water sector is there to provide a helping hand for Government to generate some good revenue and we are positioned to ensure these from water licenses.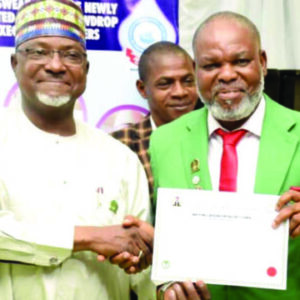 What are the specific benefits for Water use beyond licensing?
We need to conserve the water that we have. It's about pollution, it's about protecting the sources of water and making such water available. It's  about trying to find renewable places where we can recharge the aquifers that we have, both on the surface and on ground. So this is about having very clean water that can serve future generations.
We have several other bodies collecting water rates and issuing licenses. Why the duplication?
Only NIWRMC is mandated to collect water rates and give out water use licenses. No other body in the country has that right. There are actually a lot of things that are not been done well that need to be resolved. And quite a few organizations have taken advantage of several loopholes to exploit the situation.
So, only the Federal Ministry of Water Resources through the Water Resources Management Commission has the mandate to issue licenses for water use; irrespective of the industry or sector. 
How about other agencies that collect such rates and wont this send wrong signals?
I think it was because of existing loopholes that allowed that but all  those are being resolved. NIWA for instance is mostly into inland waterways and transportation. Collecting water use tax is not within their mandate.
But you also need to understand that Government works in such a way that there will be collaborations. There is nothing like a perfect bill where all powers are given to one agency or commission, which will make them all powerful and they can do whatever they want. There will be areas of collaboration, and we can meet with other government organizations, sign M.O.U's with them and work with each other.
In the Oil and Gas Sector and maritime industry; once you take transboundary waters, then you'll find us at your door. In the extractives industry, mining, we also are there to ensure that water rates are paid.
And we don't just leave it there. We collaborate and network with other agencies to ensure that these waters are not polluted or abused for future use and future generations.
Full Interview on Next Print/E-Issue of Environment Africa Magazine.