It was a deluge of tributes as Nigeria's Foremost Geographer, Prof Akin Mabogunje was finally laid to rest in his hometown of Ijebu Ode, Ogun State.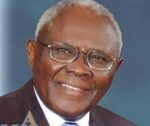 Prominent Nigerians from all walks of life, government and extended family all congregated at the church service to pay their last respects to an icon who had touched the lives of millions and had been been a glowing beacon of professionalism in his chosen fields of endeavour.
Notable amongst those present was Alhaji Ibrahim Gambari, Chief of Staff to President Muhammadu Buhari, who represented the President. In his eulogies, President Buhari described Late Mabogunje as a distinguished public policy expert, an advocate of good governance, approachable and extremely humble to all who met him; one who led by example throughout his life.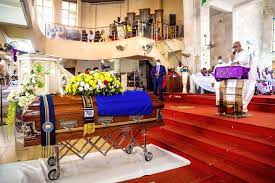 Other eulogies also poured in from various speakers who reminisced about the Late Akinlawon Mabogunje, including former President Olusegun Obasanjo who described him as a distinguished man who lived and stood firm for his faith and belief.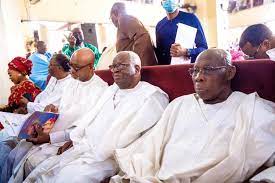 Ogun State governor, Dapo Abiodun, described late Mabogunje as an erudite scholar and community leader who loved his family and the people around him, revealing that the late professor inspired other prominent indigenes of the town to establish a fund to support and empower transporters, particularly tricycle riders.
While stating that his administration would name a prominent street after the late Professor of Geography, Abiodun also stated that he would write to the president requesting that a prominent street be named after the late professor.
"For all Baba has done for us in Ogun State, for this country, for making us very proud, we have decided that we will be naming a very prominent street in Ijebu-Ode in his memory. I have also discussed with the Chief of Staff to the President, I will also be writing to the president, humbly requesting that a prominent street in Abuja be named after Prof. Mabogunje," Governor Abiodun said
Pastor Ituah Ighodalo described the deceased as one of the best in his generation, adding that "he was a man of great humility who strived to make his country a better place."
Pastor Ighodalo said one of the last conversations he had with the deceased was on the report of a committee that Mr Mabogunje headed to address the border issues between Lagos and Ogun State and how the report was neglected by successive administrations.
"The project was ignored just like most things in Nigeria but being friends with both governors, Mr Babajide Sanwo-Olu and Prince Dapo Abiodun, I thought that I could talk to them which I did but I guess the matter is not critical to them, especially at this time," he said.
Consoling the widow, retired justice Titi Mabogunje, Ighodalo thanked her for all she did for her late husband "for supporting him, caring for him, and allowing him to be himself."
In comforting her, Mr Ighodalo said the widow might be older than him but he is her senior "in this business of losing a spouse."
Mr Ighodalo said he has been a member of the Mabogunje's family since 1966 adding that he attended the same primary school and secondary schools as two of the five children, Tolu and Seun.
Final Rites
The Burial rites for Late Akinlawon Mabogunje commenced on Thursday with a night of Tributes at the University of Ibadan (UI). On Saturday was the burial ceremony, concluding with a church service.
Notable personalities who graced the ceremonies included the AfDB President, Dr Akinwunmi Adesina; former Governor of Ogun State and Senatorial candidate of the ruling All Progressives Congress (APC) in Ogun East Senatorial District, Sen. Gbenga Daniel; Head Pastor and Founder of Trinity House Church, Ituah Ighodalo; former PDP governorship candidate in Borno State, Kashim Ibrahim-Imam; and Funso Adegbola, daughter of Nigeria's late Attorney General and Minister of Justice, Bola Ige.
The pro-chancellor and vice-chancellor of the University of Lagos, Lanre Tejuoso and Prof. Oluwatoyin Ogundipe, also led the management and staff of the institution to the ceremony; to commiserate with their colleague and daughter of Pa Mabogunje, Prof.  Folasade Ogunsola, former acting Vice-Chancellor of the University of Lagos (UNILAG), Akoka.