"It is up to the youths to start acting to save the earth. However, our responsibility as conservationists is to educate and make children aware of the nature from childhood so they grow with an affiliation to the earth".
And this was the call to action made by Sir David Attenborough, world renowned environmentalist, at the 20th Memorial Annual Lecture of Late Chief Shafi Lawal Edu (S.L Edu) in Lagos as part of activities to mark the 40th anniversary of the Nigerian Conservation Foundation (NCF)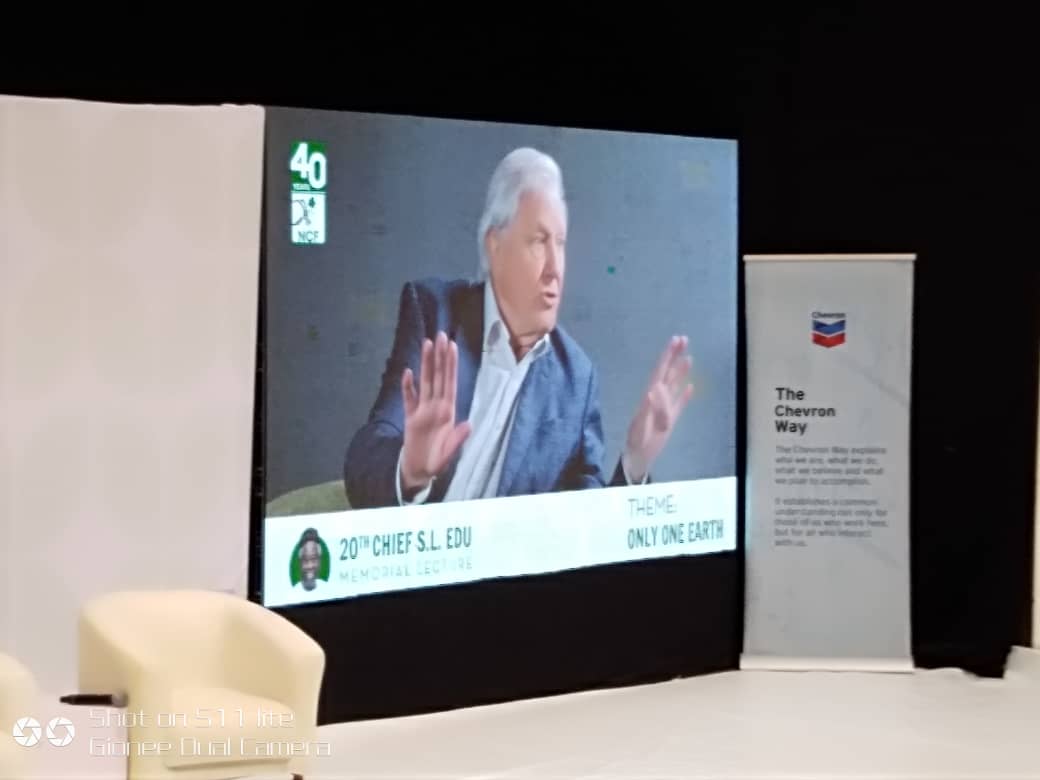 With the theme as 'Only One Earth', Sir David, in an interview alongside Dr Muhtari Aminu-Kano, DG of NCF stated emphatically he believes that Conservation centers are absolutely necessary if man wants to continue living alongside Nature; and the awareness of youths is critical to avoid societal collapse through unmitigated exploitation of the natural world.
According to him, Africa is blessed with the most diverse biodiversity in nature he has seen and Nigeria is like the crown jewel, attested to by his 1990 famous documentary filming an underground chamber of a termite enclosure at the bed of the River Niger.
Speaking further, Sir David identified Mangroves as one of the greatest buffers against sea encroachment; and the world should wake up to the realization of how dependent humanity is on the natural ecosystem.
This was buttressed further by Mr Razaq Adekola, representing the Federal Ministry of Environment. Mr Adekola, in a panel at the lecture moderated by Mr Desmond Majekodunmi, promoter of Lufasi Nature Park and Life Fellow of NCF, stated that the Federal Government of Nigeria does recognize the importance of mangroves which is why the ministry embarked on a mangrove protection campaign which kicked off in Cross River State with Four hectares of mangrove restoration; and would continue along the coastline of the Niger Delta.
He also inferred that a major challenge to planting such carbon sinks is the intransigence of the States over the Land tenural system, which is basically fueled by the need of the states to increase revenues from land matters. When questioned on other remediation activities, Mr Adekola disclosed that the Ogoni Clean-up Project has been of major import and has impacted massively on remediation of oil spill impacted areas in the region.
Statistics show that Nigeria is losing about losing 350,000 to 400,000 hectares of forest every year with a lot of consequences for climate change and rising temperature levels. And according to Dr Aminu-Kano, this is untenable and it requires a lot of efforts to stop the trend and possibly recover lost ground.
This is why in 2016, the NCF embarked on a 'Green Recovery Nigeria' project, which is to increase Nigeria's forest cover from four (4) percent to 25percent by 2047.
"We have to plant many hectares in order to stand still. And we can just aim to stand still at five per cent of our forests the way we are. Says Dr Aminu-Kano.
"But even if we are to stand still, 350,000 hectares of forest land will require 350 million trees per year for us to remain where we are.
"So, you can see that we need to plant more than 350 million trees if we want to begin to increase our forest cover at all," he said.
Wrapping up the lecture was the award of the S.L Edu research grants to two outstanding PhD Students by Chevron Nigeria Ltd.